This machine is not suitable for minors to use or food processing.
Specifications:Heating Element:3.14" x 5.9" (Curved Element) / 4.72" x 4.72" (Flat Element)
Timer Control:Adjustable from 0-999 seconds
Press Size:9.5cm x 15cm
Wattage:550W
Power Input:110V
Package Size:61cm*32cm*49cm
Weight:17kg / 33LBS
Features:
1.Semi-atuo: Automatic opening after reachine preset time;2. Sucker type footpad: Stable Operating;3. 2 in 1 work table: exchangeeable for hat & flat heating platen easily;4. Hydraulic spring: handle open gradually and operating safely;5. LED Touch screen panel controller: Stable performance, high accuracy.




General:
It will help you to leave the beautiful and clear picture on cap. So do not hesitate. Cap press machine will transfer the picture printed out on cap easier and faster. The picture is not only clear and vivid, but durable.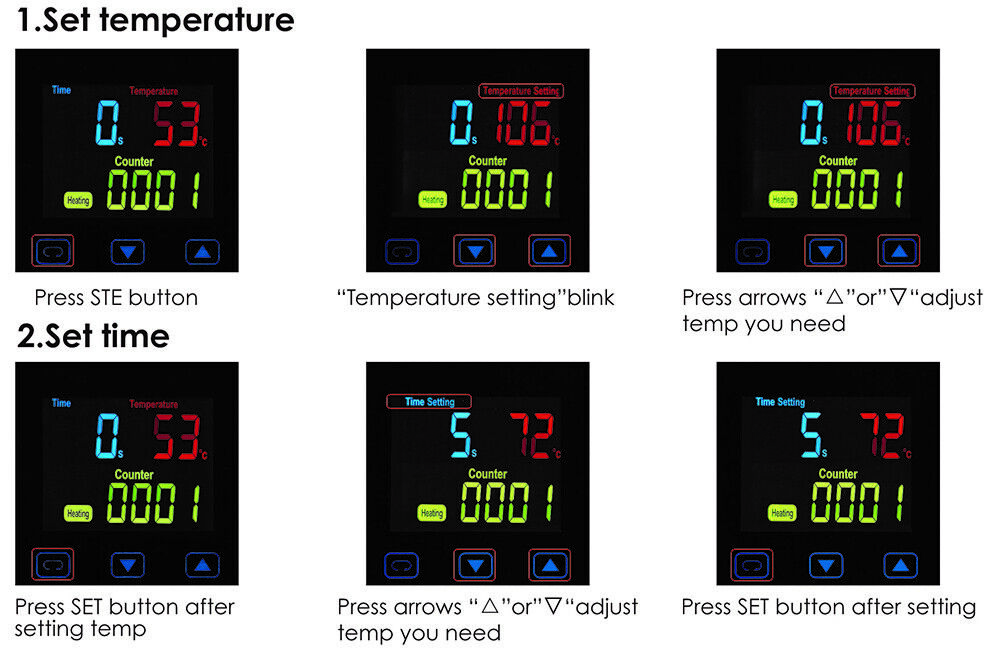 Operation Steps:
① Print iamge on paper.② Stick the image with thermal tape.③ Put the subject on the working table.④ Adjust suitable pressure .⑤ When the heating board reach temp you have set,close the Handle (3), the machine will sound an alarm automatically when reaching time,machine will open automaticly, take out the subject.⑥ You can buy one more 12*12cm heating plate,so that this machine will be 2in1 double function press.
Note: Pls try a small sample to get the right temp and time needed before large quantities printing.
Package:
1 x Cap Hat Heat Press Machine
1 x 12cm *12cm Heating Plate
Common Fault Analysis
Problem

Cause

Handling methods

1

No display after powering up

Poor outlet contact, or

the fuse is blown.

Change the power cable and

check outlet. Replace fuse with the supplied backup fuse.

2

Fails to heat up or does not heat up to the temperature

displayed.

The heating pad is

burnt out.

Check heating pad

connections. Replace the

heating pad.

3

Lack of color, faded image.

Insufficient temperature

and/or press time.

Adjust the temperature

and/or increase the heating time.

4

Darkened, deep color; blurred image.

Pressed for too long,temperature too high

Adjust the temperature and

heating time.