63'' 1600mm Single-side Low heating Cold Laminator3 years warranty with lifetime technical support and free parts replacement!
You can buy with confidence!
US Stock!
This price is only for the local pick up, if you are far from our warehouse,we can ship it to you,but extra shipping cost will be needed.

Kindly Note: Not Include the Air Compressor !!!

Description:

This laminator 1600C6+ is low heated cold laminator with liner and without
liner, a wide range of application.
It can be used
both cold laminating and hot laminating
with low temperature, to strip coil backing paper,to roll picture automatically.
Especially when work in hot laminating conditions,it will improve the
coating effect by heating the roller,.
Its multiple-function,easy operation and high efficiency.
Upgraded multi-functional and enhanced version ,which can be used with both hot and cold laminating.Specs:

Model

Maximum Laminator Width

1520mm (60")

Roller's Diameter

130mm (5")

Maximum Laminating Thickness

25mm (0.99")

Maximum Heating Temperature

when hot laminating, the temperature is 50~60 degree, the highest

temperature is 60 degree.

Laminating Speed

From 0 to 10m (393") per minute

Preheating Time

5 - 10mins

Power Consumption

0.3 - 0.5KW / h

Power Input

2200W

Height Adjust

Single side lifting link

Motor Forward / Reverse

Yes

Floor Stand

Yes

Auto Rewind Liner Pickup

Yes

After Laminating Pickup

Yes

Emergency Stops

Yes

Safety Photocell

Yes

Power Supply

AC110V, 50 / 60Hz
Details: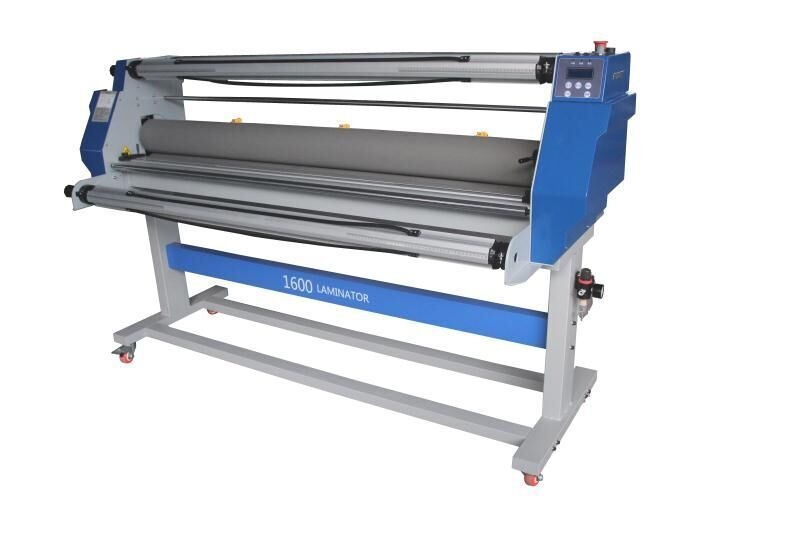 Application:
Applying to indoor and outdoor car sticker,photo and video,rimless no painting mounting and so on.

Features:
Adopts low temperature cold laminating, mainly used to solve the issue that cold laminated images are hazy.
Stainless steel feeding table
130mm (5") upper rubber roller
Auto – take – up system
Anti – tilt and anti – fold device (Origin)
Pressure and height adjust hand wheel
Infrared temperature control device
Details in photos: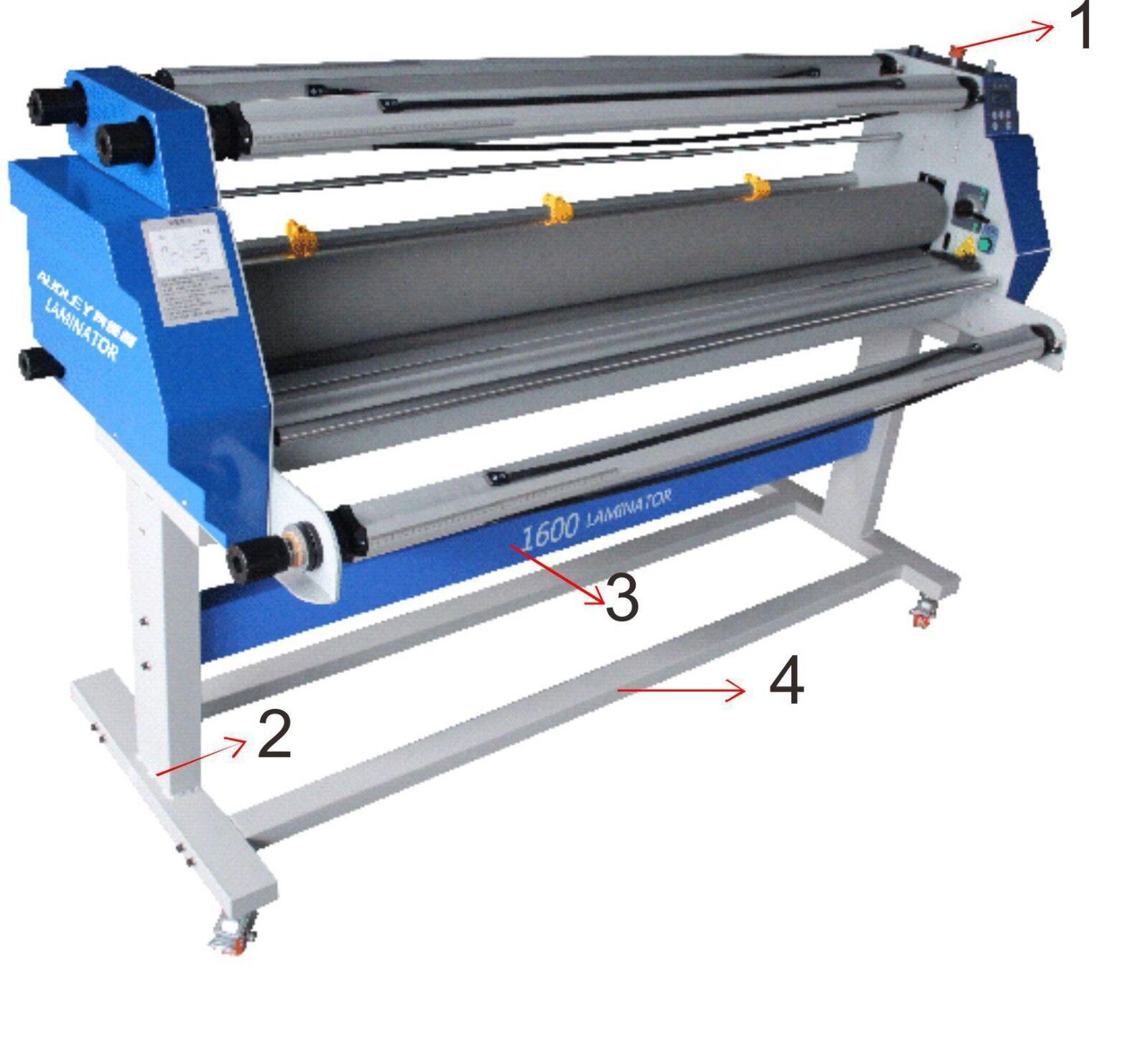 1. The emergency "stop"button
2. Machine leg
3. Cross brace 01
4. 40*60 Cross brace
Control Panel: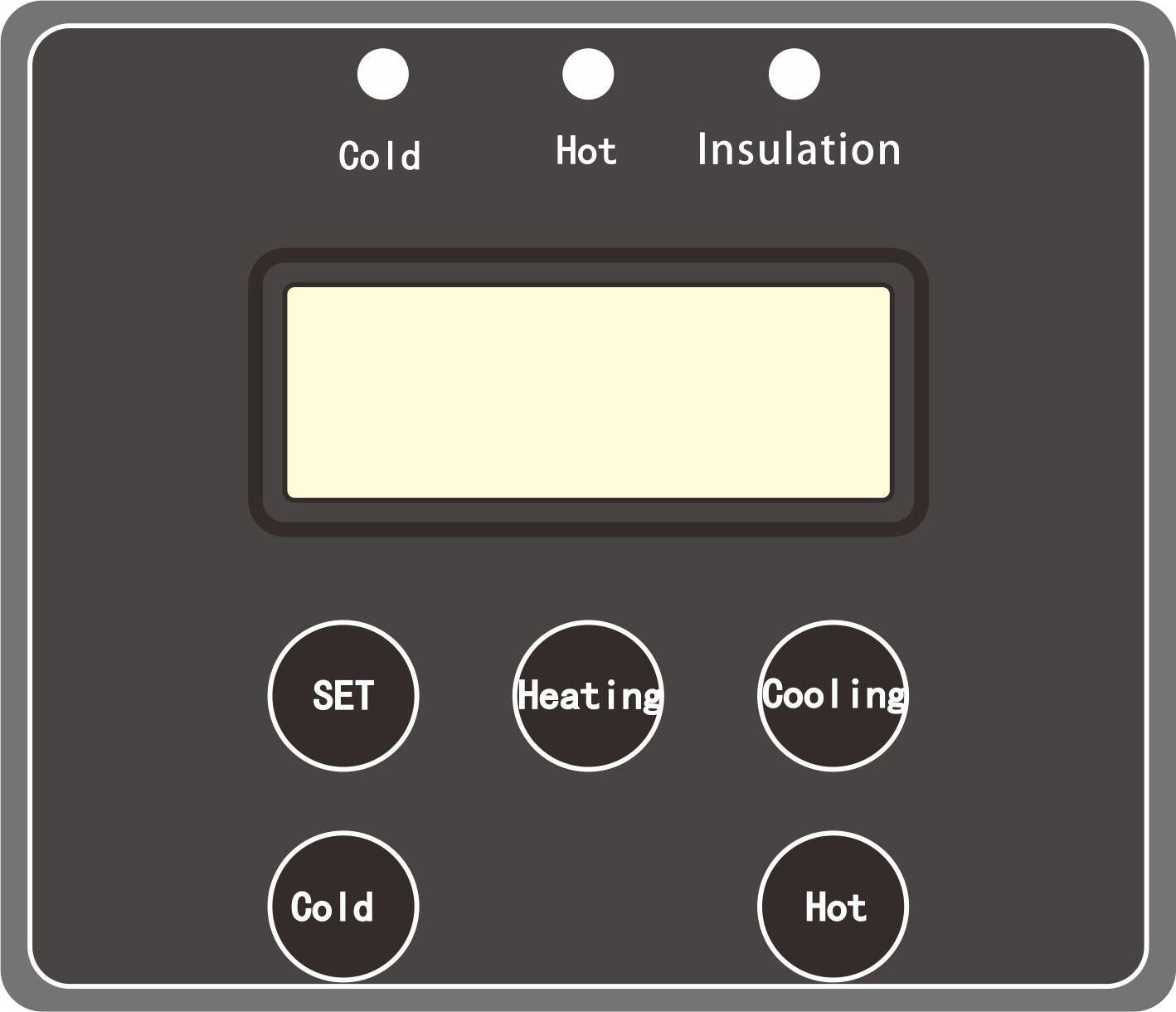 using Instruction:
Preset temperature: Find out hot/cold framed switch, choose the "hot ", temperature display screen will light up, the left number is preset temperature, the right number is roller temperature, press "■ SET"key and then through "▲ UP" and"▼
DOWN" adjust preset temperature, after adjust it and press"■ SET"key confirm it. when cold film, the preset temperature is 50 ℃ .,the max temperature is 50 ℃.According to the viscosity of the glue, and adjust preset temperature.
Turn: This machine don't have continuous reverse function;
In the "continuous" state it only can " turning";
In the "point move" state, through the pedal switch can "turning" or "reverse".
Governor knob: clockwise to grow speed, counter-clockwise to slow down; Please select the appropriate speed to ensure the laminating effect, when stop coated please select "point move".
A-Pressure adjusting valve B-Pressure adjusting valve C-locking screw nut
1. When the parallelism gap of the rollers is slight, it can be adjusted by the following method:
a. Moving screw A to adjust the balance of the roller while it ' s rising. Find out which side of the roller rises slower, then move the screw outward ( Or find out which side rises faster, then move the screw inward). Then raise and lower the roller until the roller is balanced.
b. Move screw B to adjust the balance of roller while it' s falling. Find out which side of the roller falls slower, then move the screw outward ( Or find out which side falls faster, then move the screw inward). Then raise and lower the roller until the roller is balanced.
(Adjust the air pressure to 0.1MPa, the movement of the roller is slower than normal. It's convenient to observe. )

Film laminating
Laminating work is an extremely fine, technical stronger work, for beginners should have experience in the technicians under guidance of Membranae tectoria work, the below only show the general operation.
Preheating ready to work:
1. Fall down tne upper nip roller;
2. Press the "continuous" and "turning" switch, governor rotate to the "1";
3. Open the main switch;
4. Open the "hot" switch and et the heat temperature which we required, then nip roller began to heating. Hot laminating, the preset temperature is 90 ℃ , when low temperature/cold laminating, the preset temperature set to 45 ℃ (to working temperature need about 10-20 minutes)
5. Take out a roll of film and install into material roller, then let roll into material feeding roller scaffold and pulling the film with the hand, shall ensure the appropriate resistance,through the next to the damping handwheel adjust it.
6. Let framed chart scroll in carton, then packed in rewinding stent and fixed them.
The general questions and methods

Problem
Control panel have no electricity
Method:
Check the power and emergency button
Problem Don't turn
Method:
Lift a little the upper roller
Adjust friction
Tighten sprocket key
Contact with motor or governor
Problem
Laminated paper isn't clear and have white point
Method:
Increase roller temperature
Clean the dust
Contact suppliers to replace film
Problem
laminated paper have pleated bubbles
Method:
Adjust roller force
Put paper in 90 angle into rubber roller
Increase speed and reduce temperature
Problem
Film fold
Method:
Adjust material-roller's resistance
Adjust to the required temperature


Package:
| | |
| --- | --- |
| Machine Dimension | 74" x 27" x 45" (1880mm x 680mm x 1140mm) |
| Machine Weight | 240kg |
| Package | Fumigation free package |
| Packing Size | 81" x 28" x 28" (2060mm x 710mm x 720mm) |
| Gross Weight | (400kg) |

The laminator comes with 2pcs of heating glass tube, 1pcs is on the machine, 1 pcs is in another package.
We send the spare 1 pcs of it just in case of any damage during the shipping.

Table 1: Accessories
| | | |
| --- | --- | --- |
| Term | Quantity | Notice |
| | | |
| Backing sheet reception roll | 1 | |
| Feeding roll | 1 | |
| Film roll | 1 | |
| Black rubber beam weight | 1 | |
| Finished products roll | 1 | |
| Hand wheel | 1 | |
| Rubber mat | 1 | |
| Left support of feeding roll | 1 | |
| Right support of feeding roll | 1 | |
| Fuse | 4 | 2A/7A |
| Video | 1 | |
Table 2: Steel stand packing list
| | | |
| --- | --- | --- |
| Item | Quantity | Notice |
| Steel beam | 2 | |
| Middle steel beam | 1 | |
| Left leg | 1 | Foot wheels contained |
| Right leg | 1 | Foot wheels contained |
| Hex screw M8 x 80 | 12 | |
| Flat mat φ8 | 12 | |
| Bounce mat φ8 | 12 | |