Speification:
Input Voltage: AC110V/3.1A
Maximum Output Gas: 95L / H
Operation Gas Pressure: 0.13-0.15Mpa
Ambient Temperature: -10°C ∼ 40°C
Flame Temperature: ≥2800°C
Water Consumption (L / H): 0.03L / H
Flame Gun Numbers: Double
Elecrtolyzer Capacity: 1.0L
For model H180, 0.25 kg KOH electrolyte powder and 1400ml water suggested. (The role of KOH is the same as NaOH, users can use either of them.)
Description:

• Synthetic glass (acrylic) polishing, Oxy - hydrogen generator is a machine using high temperature flame to make acrylic edge smooth and bright.

• The heat polishing on the acrylic rough surface can be achieved as long as the flame passing by gently, and the acrylic products will become glittery and bright.
• Take water (Distilled water and pure water) as fuel;

• "low working voltage, cut off automatically beyond the set voltage" design;

• H180 is updated from H100, it is economical type acrylic flame Polishing machine;

• Its electrolysis adopts series and parallel compound technique
• Economical, environmental protection, fuel obtained easily;

• The design makes the machine safer and save more energy;

• APM-H180 is safe and reliable with low energy consumption;

• The electrolysis is more efficient.

• Heat treatment for metal parts.

• Weld the hinge of spectacles rim.

• Seal the injection glass bottle, conforming to GMP industrial standards.

• Fuse the lead or tin alloy plate for storage battery.

• Cut and fuse quartz or fine parts etc.

• Peel off FPC of computer, fuse Led chip and thermocouple.
• Weld jewelry made of gold, silver, copper, lead, tin casting etc, such as stud, safety pin, chain etc.

• Polish irregular acrylic surface. After polish, the work piece will be smooth and shiny.

• Strong and durable, light weight and portable.

• Save a lot of money and time for you.

• Economical and practical.

• Energy saving, environmental friendly, safe and reliable

• The edge polished by this machine is more smooth and shiny.

The flame Acrylic Polishing Machine instruction: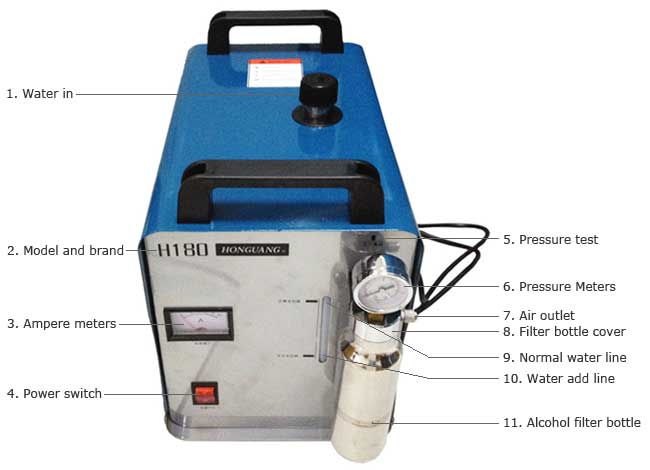 Flame Gun instruction: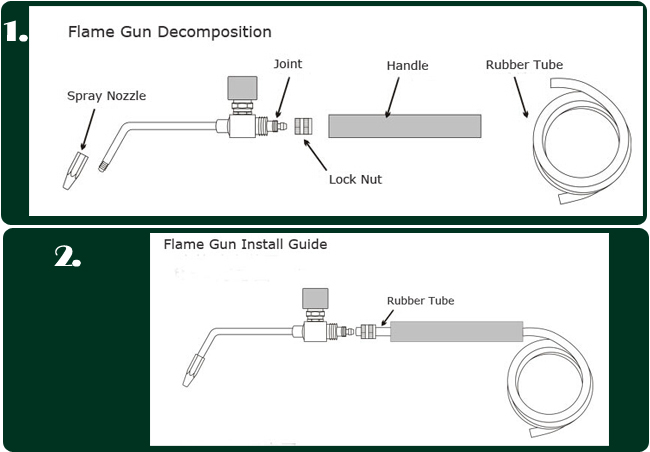 1.
Adjusting valve;
2.
Connector;
3.
Flame nozzle;
4.
Bend flame nozzle (option);
5.
Flame gun bar;
6.
Air inlet port;
7.
Pin type flame nozzle (option).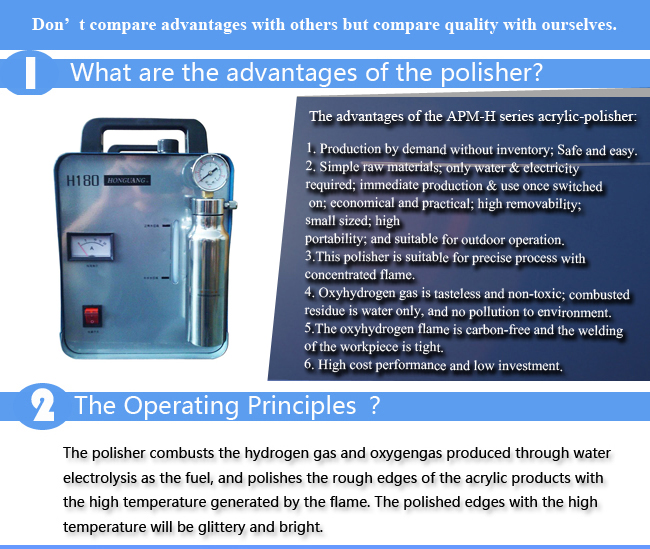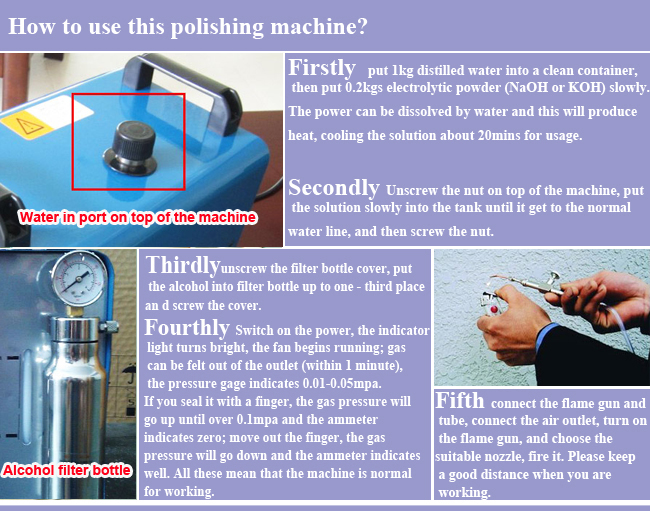 Add water timely

After several hours of operation, the water level may fall below the "middle" line, you should add some water. Distilled water is the best choice, next are purified water, cold boiled water and mineral water.


How to add water?

1. Turn off the torch.

2. Switch off the power and open the valve on the torch to let out the remaining gas.

3. Screw off the top cover.

4. Add water close to the "high" line.
5. Screw on the cover and switch on the machine, and it can work again.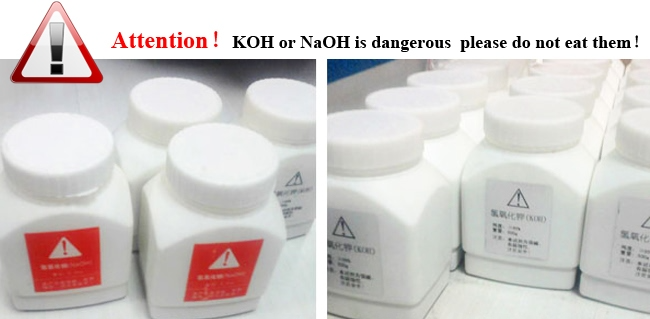 Attention:

KOH or NaOH is dangerous, please do not eat them.

The temperature is up to 2800℃ when burning, please put the flame polishing machine in the safe place.

Do not operate the flame acrylic polishing machine while your hand is wet; be careful of the electric shock.


Warning:

When abnormal things happened, such as abnormal noise, smell, smog, quite high temperature, electric leakage, you should cut off power supply immediately.

Do not repair it by yourself, you should contact us.

The above cover; please do not load metal pieces.

Please connect the ground wire.
Forbid ignite while no air pressure

• Synthetic Glass Industry.
The synthetic glass (acrylic) polisher works with high temperatures flames that wrought the organic handicraft article.

• Electronic Industry. IC encapsulation.

• Semiconductor.

• Nonferrous welding, braze welding.(In the application of welding the nonferrous metals, oxygen is not necessary instead it uses the oxy-hydrogen generator; it can saved more than 30% cost compared with the other method s that uses the same material and workload. 1. It can weld all kinds of chains and strings of platinum, gold, silver, copper, ect. 2. Lead and tin pole fusion accumulator. 3. Engineering precision.

• School laboratory.)
Provides a convenient and safe oxy-hydrogen flame.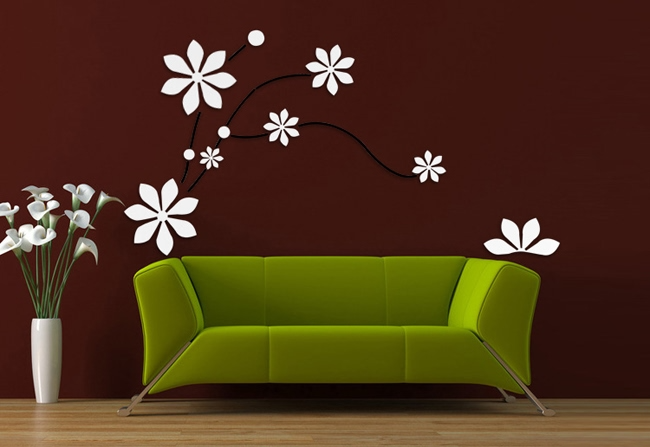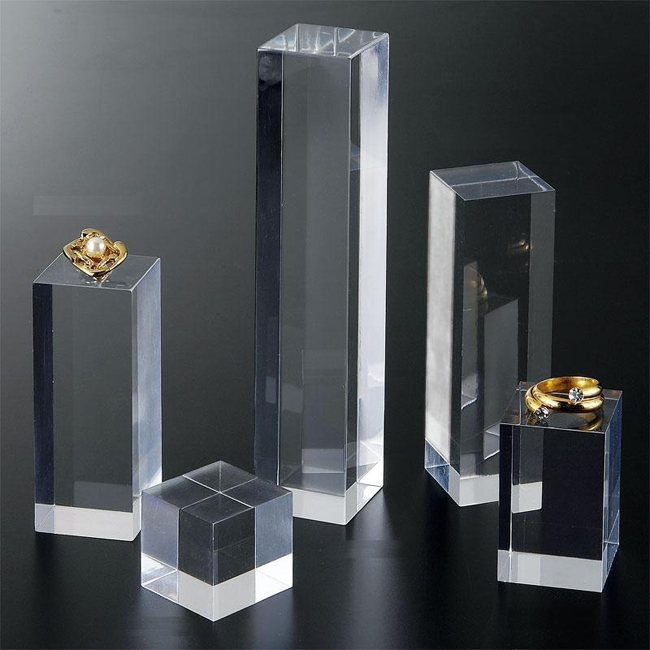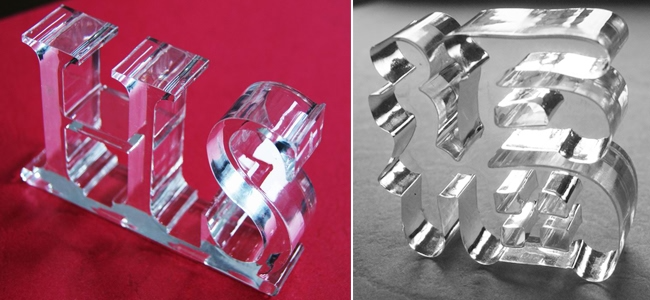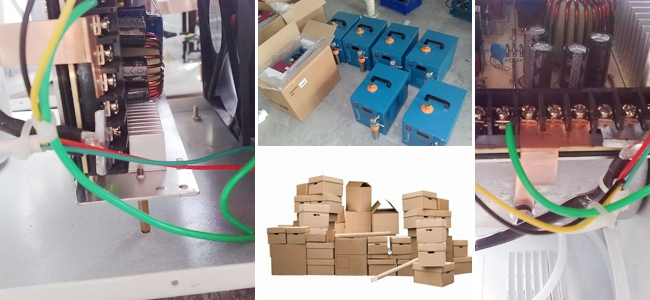 Quality report:

Wooden Box: There is total one carton box.
| | |
| --- | --- |
| Machine Dimension | 380mm x 250mm x 300mm (15" x 9.8" x 12") |
| Machine Weight | 8kg |
| Package | Carton box with foam fixed |
| Packing Size | 480mm x 280mm x 360mm (19" x 11" x 14") |
| Gross Weight | 11kg |
Packing List:
| | | |
| --- | --- | --- |
| | Machine | 1 set |
| | Flame Gun | 2 pc |
| | Plastic funnel | 1 pc |
| | Flame Spray Nozzle | 1 pc |
| | Rubber Tube | 1 pc |
| | Three way cock | 1 pc |
| | Power cable | 1 pc |
| | | |
| | Instruction | 1 pc |
P. S.: Electrolyte powder (NaOH or KOH) is forbidden by express company, so we could not put it into the package. You can buy it from local chemicals paint.
One bottle is 500g, and it can be used about 3 - 4 months.
Package: