Description:

1. This Image auto-switch type projector light has gobo auto switch function for 3 gobos.
2. There are nine different shifts between 10s-90s for switch interval time setting, makes uses' images more and convenience. It's the master of outdoors advertising, high lumen series possesses low power, far distance, super HD.
3. Equipment original high-power Osram LED chip, super heat-conducting copper board. Heat sink's 80% is made from model 1070 Aluminum, heat dissipation up to 95% independent reaserch and develop drive solution, even electrolysis are sued for 30000 hours, realoze luminous efficacy above 90%.
4. Beam angle are 15°/25°/35°/45° for your selection.

Specification:
Film: Static
Power: 40W / 60W / 80W
Distance: 40W: MAX 15M; 60W: MAX 25M; 80W: MAX 50M
Input Voltage: AC 85-265V
GOBO Size: D=30MM, D=20MM
Beam Angle: 15°/25°/35°/45°
IP CLASS: IP65

Where to use gobo projectorIdeal for your company, store, restaurant, bar,events, party, activities,warning, guide in mall, warehouse,wedding,advertising, DJs and event planners.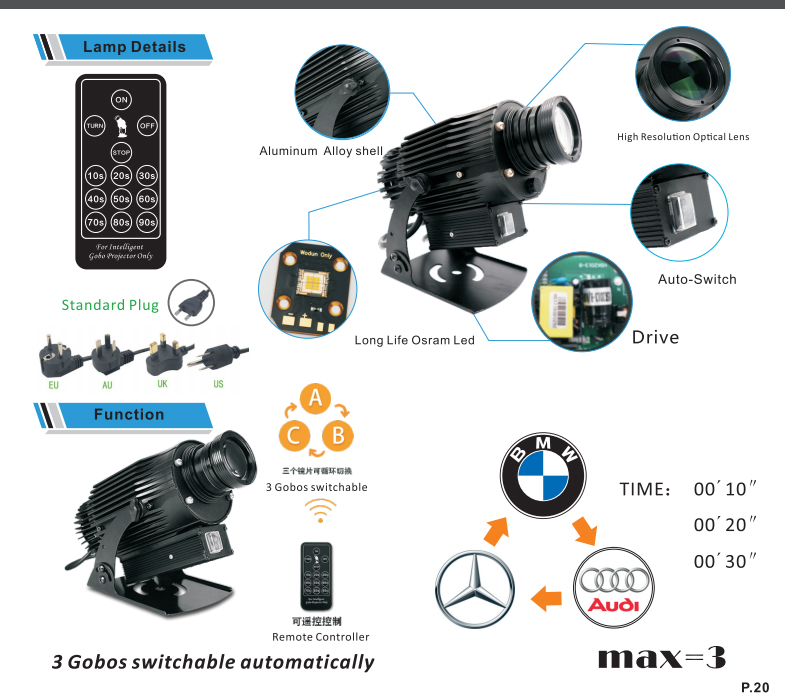 1. Singl color light: Lamp + single color film
2. Two colors light: Lamp + two colors film
3. Three colors light: Lamp + three colors film
4. Full color light: Lamp+colors not in the color section film
Once artwork is print-ready and approved, 3 days turnaround + 5 days transit time.